The O'Leary Coat of Arms and Crest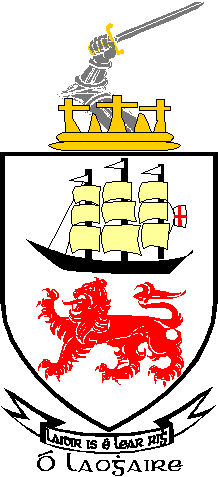 The O'Leary coat of arms came into existence centuries ago.
Arms: Argent, in a base a lion passant gules, and in chief a three masted ship sails set.
(Silver with a walking red lion and above a three masted sailing ship.)
Crest: An arm in armour embowed holding a sword proper.

Motto: Laidir isé lear Righ.

Motto Translated: Strong is the King of the sea.

The crest represents 'Strength on Land and on the Sea' and probably refers to
a dimly remembered military and maritime tradition from the days when the family
lived on the coast near Rosscarbery. Probably based on the original punning motto
of O Laoghaire, 'lear righ', but the whole point was lost when the motto was usually
used in the Latin form 'Campis Fortis et Undis'.
Origin of name: The original name Laoghaire is supposed to mean 'the calf-keeper'.
Suffice to say that Laoghaire was a fairly common name used in various parts of the Country.
When surnames were introduced in the 11th.c. this family took its surname from an ancestor,
Laoghaire son of Ros, son of Eirc, and former chieftan from the 6th.c. who presumably was
well remembered at that time. There were believed to be other Clans who took the surname
O'Leary, but none of these are known to have survived.
Meanings:
Silver meaning Sincerity, Peace
Lion meaning Fierce Courage.
In Ireland the Lion represented the 'lion' season, prior to the full arrival of Summer.
The symbol can also represent a great Warrior or Chief.
Ship: Hope, a sea-faring tradition
Crown: Regal or senior authority, heavenly reward
Arm with Armour: A person fit for high deeds
Sword: Indicates the bearer to a just and generous pursuit of honor and virtue in warlike
deeds.

Variations: O'Leary, Leary, Lary, Laury, Learey, O'Laoghaire, O'Laoire, O'Laohaire

First found in county Cork where they held a family seat from ancient times.
The name O'Leary (and Leary) in Ireland is among the fifty most frequently found in the country
and is derived from the native Gaelic Sept O'Laoghaire that was located in the Province of Munster
and especially in County Cork. It is here that the majority of descendants can still be found.


History:


Eoghanacht Genealogies
From
The Book of Munster
Written in 1703 Rev. Eugene O'Keeffe Parish priest and Poet of Doneraile, North Cork
excerpt from XXIII
The genealogy of McGillicuddy Mac Giolla Mochuda Conchubhor son of Donnchadha son of Domhnall
son of Donnchadh son of Donnchadh son of Conchubhar son of Conchubhar son of Giolla Mochuda,
son of conchubhar son of Tiolla Mochuda caoch, son of Dunland son of Giolla Mochuda
son of Domhnall Mor of Carraig Fionmhuighe. (the pedigrees of other minor branches of O'Sullivan -
Clan Fineen Duff and Clan Lauras also appear)
Ui Eachach Mumhan Cas, son of Corc, had one son - Eochu, from whom is called the Ui Eachach (Ivagha).
This Eochu had seven sons: Criomthann, Brian, Breassal, Ceannagan, Muireagn, Lughaid Ciochach and Caibhlen.

None of these had issue except Criomthann and Caibhlen.

Criomthann had two sons: Laoghaire and Aodh Uargharg. (the Book of Munster now gives a genealogical poem
of Cathan O'Duinnin written in 1320, containing 126 stanzas and traces the branching out of the Cineal Laoghaire
- the O'Donoghues and about 50 other kindred families - the genealogical content is given here below)

Laoghaire, son of Criomthann, from whom is Cinel Laoghaire. This Laoghaire had three sons:
Ughoin, Flann Lua and Aodh Osraigheach.

Ughoin, from whom is the sept named Corca Ughoin. Ughoin had a son, Corc. Corc had five sons:
Longadh, from whom was the O'Longhadh (O'Long) family;
Niall, from whom the O'Neill family;
Dubhthacain, from whom was O'Dubhthacain (O'Duggan);
Feichan, from whom was O'Feichin (O'Feehin) and
Donn, who had no issue.

Flann Lua or Laoi, son of Laoghaire. He is named for the river Lee and is ancestor of the sept Ui Flainn Lua.
Flann Lua had four sons:
Deice, from whom Muintir Dheice;
Tuathan, from whom Muinter Tuathail;
Donnghal, from whom Muintir Donnghail and
Amhalghaid, from whom Muinter Amhalnghaid.

Donnghal had five sons:
Laoghaire, from whom the Ui Laoghaire (O'Leary), who were chiefs of this district.
Donnghal, from whom the Ui Dohnnghaile (O'Donnell);
Mongan, from whom the Ui Changain (Mongon);
Connall, from whom Ui Chonaill (O'Connell) and
Loingsheach, from whom Ui Loingshigh (Lynch).

Rinn Mor son of Laoghaire from whom was the Muintir Rinn Tuathal son of Flann Lua had five sons:
Ceitin, from whom Ui Cheitin;
Meagagan, a quo Ui Mhearagain;
Aghnach, a quo Ui Aghnaigh;
Cuilen, a quo Ui Chailein; and
Cainte.

Ceinte had a son: Crocharan

Ciocharan had three sons:
Eoghan, from whom Ui Eoghain;
Agha, from whom Ui Agha; and
Maothagan, from whom the Muintir Mhaothagain.

Deice son of Flann Lua, had a son i.e.,
Dubhagh, from whom Ui Dubhaigh,
but this family and the family of Amhangaid, son of Flann Lua have become extinct through the
curse of St. Srafan of Dromdaleague.

The descendants of Aodh Osraigheach, son of Laoghaire (O'Donohues).
Aodh Osraigheach son of Laoghaire (a quo clan Laoghaire) had two sons; Donn Creigheach and Cairbre.

Cairbre's son, ie., Clairineach.
Clairineach had three sons and a daughter; Sealbhaigh and Cuanna and Dunland the three sons and
Cruineaca Lanogh, the daughter's name.

Dunland succeeded to the kingship after his father.

Dunland had a son, Elathach.

Elathach had two sons, i.e.,
Fearghal and Dunlang.

Fearghal had a son, Beannt, from whom are the sept of Beanntraighe (Bantry) in Cork.

Beannt had four sons:
Aibhneair, from whom came the Tuath Aibhneoir;
Deannan, from whom the Tuath Deannan;
Duilghin, from whom Muinter Duilghin; and
Daire, from whom Muintir Dhaire.

Sealbhaigh son of Clairineach, had four sons: Slat, Elathach, MacIodhar, and Cochlan.
The descendants of Slat and Elathach fell into obscurity;

Cochlan, son of Sealbhach, had four sons:
Aodh, from whom is Ui Aodha (O'Hea);
Cochlan from whom Ui Chochlain (O'Cohalane, O'Coughlan);
Ceanndubh, from whom Ui Cheannduibh (O'Cannifee);
Airchinneach, from whom Ui Airchinnigh;
Maicthrialla, from whom the Ui Mhaicthrialla; and
Maolbhridhde, who died without issue.

Maolodhar son of Sealbaigh had five sons:
Ealathach, from whom the Mac Ealathaigh family;
Buadhach, from whom the Ui Buadaigh (O'Bogue);
Cathalan, from whom Ui Chathalain (Cahalane);
Maoilin, from whom Ui Mhaoilin; and
Croinin, from whom the Ui Chroinin family (O'Cronin).

So far the face of Sealbhaigh son of Clairineach.
Elathach, son of Dunland, son of Clairineach, had one son Dunlang.
Dunlang had a son, Ainbhleithe. Anbhleithe had a son, Flaithnia.

Flaithnia had five sons: Aonghus, from whom the kingship;
Flaitheamh, from whom Ui Flaitheamh (O'Flahiffe);
Flann, from whom Ui Floinn (O'Flynn);
Conghal, from whom Ui Chonghaile (Connelly); and
Ceallachan, from whom Ui Ceallachan (O'Callaghan).

St. Srafan the wise man from Leinster brought with him to Dromdaleague his sister's son, Ailghean.
he married a daughter of Flann son of Flaithnia and they had four sons:

Nala, from whom UI Nala (Whooley);
Donn, from whom Ui Duinn (O'Dunne);
Ailghean, a quo Ui Ailghean (Allen); and
Cathan, from whom some of the Ui Cathain (Keane) families.

When Maonach came from Lann Leine to South Munster he brought Aitniadh with him.
The son of Airtniadh was called the Deasmhuimhneach ('South Munsterman"),
from whom was the Ui Dheasmhumhna family (Desmonds).
The surname "O'Leary" is obviously of Irish origin, meaning "Son of Leary". It originates from one of the
best-known personal names from ancient Ireland , the Gaelic "Laoghaire", meaning "Herdsman" or "calf-herder".
Records identify that O'Leary is and always has been essentially a Co, Cork surname, it is believed to be
traceable back to the 3rd century to Luy Maccon, king of Ireland , and founder of the Corca Laidhe tribe who
occupied the extreme South West corner of County Cork . By the 12th.century it is believed that the Corca Laidhe
tribe can be divided into seven sub-kings under the provincial king. One of these seven sub-divisions is called
Tuath Ruis in Dolaich. Its chieftain is O'Laegaire and its territory is around the present city of Rosscarbery .
Towards the end of the 12th century around the time of the Anglo-Saxon invasion, the sept suffered the same fate
as many of the Gaelic septs, in that they were driven from their original habitat. Their migration did not see them
move too far - only from Corca Laidhe in the south-west of Cork to into the mountainous district of Uibh Laoghaire
or Inchigeelagh Parish in the same county, a remote mountaineous territory with the lofty Kerry mountains insight to
the west of them. Here they long ruled as Chiefs and possessed several castles under the paramount Muskerry
MacCarthys. This area remained the home of the Clan right up to the final destruction of the Gaelic Order in 1690,
and although many of the individual families emigrated to other lands, there has always remained a substantial core
of O'Learys in this Parish to this day
Out of one hundred and three landowners recorded in the civil survey (1654) of the Barony of Muskerry no less
that thirty four were O'Learys, while MacCarhtys numbered forty one and O'herlihys ten.
In the 1890 Birth Records, there were 134 occurrences of Leary in County Cork, and 47 occurrences of Leary
in County Kerry.

In the 18th. and 19th.c. there were many O'Learys who are still remembered: Art the outlaw, his wife Eileen Dubh,
Maire Buidhe the poetess, Fr. Arthur the Franciscan, Daniel florence in South America, John the Fenian and
Ellen his sister, an tAthair Peadar, the Pagan.
The O'Learys were a small Clan who were freeholders under McCarthy of Muskerry right up to 1690. In the
Civil Survey of 1650 apart from O'Leary himself in Carrignaneela 'Castle' there were about thirty other landowners
all called O'Leary, and two other Tower houses occupied by other members of the Clan. Only one of these tower
houses is still standing, although roofless, and this is Carrignacurra near Inchigeelagh. ( This is the tower house where
the policeman chased Dad away because of the danger. It is currently under renovation. )
Since 1690 the Clan has spread by emigration all over the World, but particularly to America, where there are a
substantial numbers in Boston, Chicago, California, and New York. It is believed that the Worldwide population
of the Clan is about 40,000 but of these only a small proportion, perhaps 6,000 sill live in their native land.
The name is today very numerous being sixty second in the list of hundred commonest names in Ireland with an
estimated population figure of almost ten thousand persons. It is remarkable, what a large portion of these, as
indicated by vital statistics, were born in that part of the country to which the sept traditionally belongs -no-less
than eighty per cent.
In this connection it may be added that there are two places called Ballyleary in Ireland , Both in Co. Cork.
The O'Learys took a prominent part in the Irish Wars against the English Invader when these affected Munster .
They suffered much in the Desmond Wars; one Mahon O'Leary was a forerunner of the 'Wild Geese' as he went
to Spain with d'Aquila after Kinsale; fifteen were attained in 1642; the name is found in the 1691 attainder and
also in the Irish regiments of France in the eighteenth century.
The town of Dunlaoghaire , formally Dun Leary, a suburb of Dublin , is named after Laoghaire who was
King of Ireland at the time of St Patrick in the fifth century. Dún Laoghaire gets it's name from the Irish
Translation, Fort (Dún) of Laoghaire. King Laoghaire was the ancient High King of Ireland before the Vikings
arrived. When the English came they renamed the town Dunlary (Dunleary) to suit the English tongue. In 1821
it was renamed Kingstown by King George IV of England to honour his visit to the town that year. It remained
Kingstown through Victorian times until in 1921, one year before independence, the town council voted to
change the name back to the ancient Irish name Dún Laoghaire. The person most responsible for this was the
Irish Martyr John Moran who was commemorated with the naming of Moran Park. Dún Laoghaire is a town
on the coast about 7 miles (11km) south of Dublin. The town has a splendid harbour and surrounding rolling hills
BLAZON OF ARMS:
Argent, a lion passant in base gules, in the chief a ship of three masts sable, sails set proper, from the
stern the flag of Saint George flotant.
MOTO:
LAIDIR ISE LEAR RIGH. "Strong is the King of the sea"
CREST:
Out of a ducal coronet or, an arm in armour enbowed, holding a sword proper, pommel and hilt or.
The crest is said to represents 'Strength on Land and on the Sea'. This may be as a result of when the family was
believed to have lived on the coast near Rosscarbery.
Name Meaning:
"Herdsman or Calf Keeper" The original name Laoghaire is supposed to mean 'the calf-keeper'. Suffice to
say that Laoghaire was a fairly common name used in various parts of Country Cork. When surnames were
introduced in the 11th.c. this family took its surname from an ancestor, Laoghaire son of Ros, son of Eirc, and
former chieftan from the 6th.c. who presumably was well remembered at that time. There were believed to be
other Clans who took the surname O'Leary, but none of these are known to have survived.
Variations of the Name:
O'Leary, Leary, Lary, Laury, Learey, O'Laoghaire, O'Laoire


The Origin of Irish Family Names:
Early times: In ancient Ireland the population was much smaller than today and the mass movement of people
was uncommon. It was usual therefore for a person to be known only by one name: Niall, Eoin, Art, etc.
Once there was no one else in the locality with the same name then this was not a problem.

The Gaelic Clann system was well established and this gave people a common identity with their people of the
tribe and with the commonly shared area. This single name system began to break down during the eleventh century
as the population was growing and there was a need for a further means of identification. The solution was to adopt
a prefix such as Mac (Mc is an abreviation) or Ó. Mac means 'son of' whilst Ó mean 'grandson of'. Mac surnames
are generally of a much later date than Ó. The vast majority of Gaelic Irish surnames were created during the eleventh
and twelfth centuries.
Septs: The Clans eventually broke up into a number of distinct septs or groups. These groups were headed by an
original member of the clan and dominated a particular part of the countryside. It was not uncommon for septs from
the same clan to be found in completely different parts of the country
The sept system was an integral part of Gaelic society and survived and was even propagated by the Norman invaders.
The system did not survive the English invasion and colonisation of the seventeenth century however, and it became a
disadvantage to have a Gaelic sounding name.

Anglicization: The Penal laws that were enforced by the colonists attempted to completely subjugate the Gaelic way of life.
It is about this time then, that many Gaelic names changed to their Anglo equivalent or translation

A Brief History of Ireland

Ireland was first settled in about 6000 BC by a race of Middle Stone Age hunter-gatherers who lived there and hunted such
creatures as the megaceros, a giant variety of deer so large that their antlers spanned 10 feet. Around 3000 BC, they made
significant technological improvements which moved them into the classification of Bronze Age people. These people eventually
came to be known as the Picts, who ruled over Ireland for millenia and even expanded to Scotland. Irish folklore tells that
during these very early times, two sons of King Milesius of Iberia conquered Ireland, becoming King Heremon, and his brother
Heber. It is said that after assuming power in Ireland Heremon slew his brother, took the throne and fathered a line of kings of
Ireland that includes Malachi II and King Niall of the Nine Hostages.

In around 900 BC, a race known as the Celts appeared. They were the result of cross-breeding between European Bronze Age
people and wanderers from central Asia. They dominated the country for many years to follow, building many of the characteristic
ring forts which are found all over Ireland. They did not confine themselves to Ireland, however, dominating Western Europe for a
long time, sacking Rome in 390 BC, and Delphi a century later.

In the early 5th century AD, St. Patrick came to Ireland to convert the Irish, who were all Druidic, to Christianity. He had amazing
success, as today nearly everyone living in Ireland is Christian and Druids are almost unheard of. This feat was made even more
impressive by the fact that the Celtic nobility held their power through the Druidic religion; because of this, they were exceptionally
difficult to convert.

The years that were the Dark Ages for the rest of Europe, between 410 and 800 AD, were a golden age for Ireland. Ireland flourished
while the Roman Empire fell, fragmented and was plagued by attacks from Vikings, Muslims and Magyars. It was not to last however;
Ireland was to have its own Dark Age.

In 795, Vikings from Scandinavia landed on the Gaelic island of Iona and plundered a monastery there. By the early 800s, they
had begun raids on Ireland itself, plundering it on a regular basis. At first, they were only interested in rape, pillage and plunder, but
eventually they stayed, rather than taking their loot and leaving. By 841, they had established several well-fortified settlements in
Louth and expanded aggressively thereafter, eventually conquering all of Ireland with a decisive victory in the Battle of Dublin in 919.
The Celts slowly regained land, however, and in 1014, led by Brian Boru, they almost completely eliminated the Viking presence in
Ireland with the Battle of Clontarf.

Next came the Normans, who were of originally Viking origin. While some Vikings were raiding Ireland in the previous centuries, the
Normans had settled in northern France and were intermarrying with the natives. From there, they swept through England and Scotland,
and eventually came to Ireland in 1169. Within a few years they had captured Dublin and most other major cities, and so Ireland
belonged to them. They intermarried with the Celts (who now called themselves the Gaels), giving rise to many powerful Norman-Irish
feudal families.

Then, a feud which was to change the fate of Ireland began between two powerful families: Tiernan O'Rourke and Dermot MacMurrough.
Two other families joined in as well; Rory O'Connor sided with O'Rourke and Murtogh MacLochlain protected MacMurrough. In 1166,
O'Rourke and O'Connor triumphed and chased MacMurrough out of Ireland.

MacMurrough was not to be discouraged, however; he returned shortly thereafter with an army provided by Henry II and the assistance
of the legendary Richard FitzGilbert de Clare, also known as Strongbow. He eventually managed to take over Ireland and instated
himself as ruler there. He became sick and died after a short reign, and left his throne to Strongbow. O'Connor and O'Rourke raised an
army and attempted to instate MacMurrough's nephew, with whom they sympathized, instead of Strongbow but they were defeated.

Strongbow therefore became King of Ireland, but King Henry had plans of his own. He had provided the army that conquered Ireland,
and he wanted Ireland in his empire. So he brought a new army to Ireland, consisting of over 4000 troops. Strongbow surrendered
Ireland to him without a drop of blood being shed.

For a long time thereafter, Ireland was divided between the Normans and the Gaels. Though the Normans controlled most of the Island,
there was eventually a Gaelic resurgence and the Norman territories were vastly reduced. Once this happened, the Normans began to
be assimilated and eventually became "more Irish than the Irish."

Though still affiliated with England, Ireland was essentially independent. The Tudor Dynasty (1485-1607) put an end to this, engaging in
another conquest of Ireland and instating laws which, among other things, decreed that the King of England was automatically the
King of Ireland, essentially making the two a single country. They also ousted the Catholic church, making Protestantism the religion of
Ireland and also imposed laws which created a huge class distinction, setting the stage for the bloody conflicts that rage to this day.

The so called Plantation of Ulster occured during the reign of King James I, in the early 17th century, six entire counties, (Armagh,
Tyrone, Coleraine, Donegal, Fermanagh and Caven) of Ireland were 'planted' with English and Scottish settlers. The settlers were
Protestants, sent by the English crown to make the territory easier to rule. More than 8,000 people of British birth were found in these
counties by 1620. The Plantation of Ulster was to have a profound impact on Ireland and it's relation to the United Kingdom for centuries
to come.

From 1740 onwards, the population of Ireland began to soar. For the next eighty years, the largely agricultural economy of Ireland enjoyed
a period of prosperity due to increased production and high British grain demands. However, by the 1830s, the once-fertile soil had grown
depleted from heavy overproduction, and agricultural productivity fell off. The mid-1840s marked the onset of catastrophe for the Irish potato
crop. A partial failure of the vital staple crop in 1845 was followed by a complete failure the following year, which was in turn followed by an
especially cruel winter. In 1848, the crop failed once again. Starvation and disease became common as many farmers were driven penniless f
rom their homes. The Irish Potato Famine resulted in one of the most dramatic waves of migration in history. From 1845 to 1851, Ireland
lost almost a quarter of its population. Of these, half emigrated to Britain, North America, and Australia. The other half perished.
Most Irish immigrants were virtually penniless and were often perceived to be lower-class and less hard-working, but nothing could be further
from the truth. Time would prove their critics very wrong.

Dun Laoghaire
Boasting one of the worlds finest harbours, Dún Laoghaire takes it's name form the great King Laoghaire who in 480A.D.
maintained a great "Dún" or stone fort in the centre of the town. The ancient fort was demolished in 1803 to make way
for the building of a Martello tower which in turn was replaced in 1834 by the first suburban railway in the world.
King Laoghaire's large garrison ensured that the Romans would think twice about invading Ireland from the Saxon shores.
Some say that Patrick the boy shepherd arrived at Dún Laoghaire as a slave, it was the same Patrick who returned in
432A.D. to face King Laoghaire and who subsequently destroyed his ancient Druid order. Traces of this order can still
be found in Dún Laoghaire and the neighbouring village of Dalkey. Both towns are closely linked for it was the granite from
Dalkey Hill that built Dún Laoghaire harbour in 1817.

The decision to build a harbour in what was until 1817 a small fishing village came about as entry into the River Liffey was
becoming more and more difficult, with ships having to wait days before they could berth and off load their cargo. The
amount of shipwrecks was also becoming unacceptable, literally hundreds per year being wrecked off the coast of Blackrock
and Monkstown with thousand of lives lost, which eventually led to the setting up of the lifeboat station in 1803.

So it was in 1817 that the Earl of Whitworth laid the first foundation stone of the pier designed by John Renny. Designed to
be a port of refuge away from the fierce Irish Sea where large ships could berth safely it would have worked had the Earl not
insisted that the entrance to the harbour be widened to accommodate the Admiral's fleet. This widening of the harbour also
accommodated the silt from the surrounding shoreline which washed in and made it impossible for the larger ships to enter
safely as planned. Despite this the Mailboat operated out of DúnLaoghaire successfully carrying cargo, passengers and of
course, Mail.

This now thriving port prompted the building of a railway to link the southside of Dublin to the City. Churches, schools and
shops had sprung up to accommodate the needs of the labourers and their families working on the construction of the harbour
and then the railway, transforming the fishing village of Dún Laoghaire into a prosperous town that catered for the day trippers
who would come from all over Dublin to enjoy the shopping and entertainment that the markets, the bandstand and the pavilion
provided. Now nearing the 21st Century, Dún Laoghaire stills provides excellent shopping value and entertainment, with plenty
of pubs, clubs and restaurants to choose from.

Today in Dún Laoghaire, people still enjoy a stroll along the "Prom", and then down the Pier. Stopping off at Teddy's for a
Ninety Nine on the way home. During your visit you can enjoy anything your heart desires. Dún Laoghaire has a
Wide Range of Activities for everyone, old and young. With the Harbour the center piece of the town, you can be assured
of a wide and varied selection of water sports and to choose from. Whether it's speeding through the waves of Dublin Bay and
dancing the night away until the wee hours of the morning, strolling through the hills, horse riding, fishing or just taking it easy,
Dún Laoghaire has everything on offer. It is also the ideal place to base yourself if your planning a visit to Dublin, or the rest of
Ireland. The Tourist Office is at the bottom of Marine Road, by the Harbour.
Source Information from:
A Coat Of Arms Store; A Brief History of Ireland, The Origin Of Irish Family Names
Surnames of Ireland, Robert Matheson, 1890 Birth Records
http://www.goireland.com
Lynn & Darren O'Leary's page
http://www.dun-laoghaire.com/
http://www.leevalleyireland.com/
http://www.ireland-information.com
http://www2.smumn.edu/uasal/eoghan.html
Eoghanacht Geneaologies from The Book of Munster
Written in 1703 Rev. Eugene O'Keeffe Parish priest and Poet of Doneraile, North Cork
Coat of Arms image on this page was provided by Eddie Geoghegan. For more information, or to view more arms,
please visit his Irish Coats of Arms site at http://homepage.tinet.ie/%7edonnaweb/.